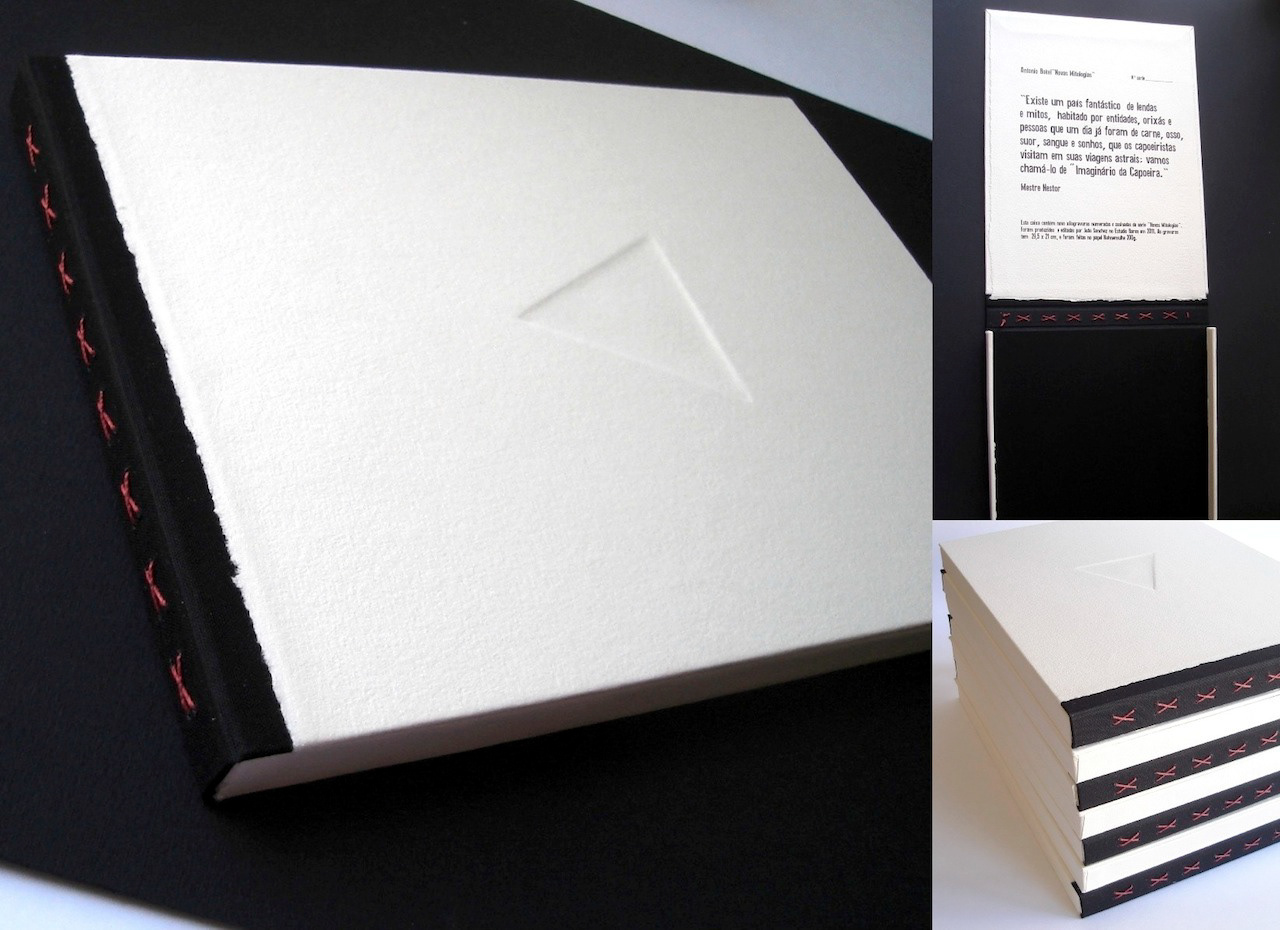 Presentation Box for artist Antonio Bokel
Project created for artist Antonio Bokel. The boxes keep nine engravings numbered and signed. Each box has a series number signed by the artist.
Dimensions 22 X 30,5 X 1,5 cm. Boxes covered with Hahnemuhle 300g/m2, detail with black Saphir book cloth and X sewing with red thread. Detail in triangle shape on the cover.
Projeto de caixas para gravuras desenvolvido especialmente para o artista Antonio Bokel. A caixa acondiciona nove gravuras numeradas e assinadas. Cada caixa tem o número de série assinada pelo próprio artista.
Dimensões 22 X 30,5 X 1,5 cm. Caixas forradas com papel Hahnemuhle 300g/m2, detalhe em tecido saphir preto e costura em X com linha colorida vermelha. Detalhe em baixo relevo na tampa em formato de triângulo.
 
We were invited by art director Andre Weller to create five books to be part of the scenography of the play "Lição nº18" (Lesson Nº 18), from the author Doc Comparato. The play is in the theater "Poeira" www.teatropoeira.com.br/site/, Rio de Janeiro.
The books represent the manuscripts of "La Hadriana" book by Luigi Groto, that according to some would have inspired Shakespeare to write Romeo and Juliet.
Calligrapher and artist Claudio Gil wrote on the pages that were previously prepared to look old and stained. The paper was hand cut to have a rustic appearance. The paper used was Fabriano Murillo. The pages were directly sewn on the leather cover. We were very happy with the result.
Recebemos um convite do diretor de arte e cenógrafo André Weller para criar cinco livros para a cenografia da peça Lição Nº 18, de Doc Comparato em cartaz no teatro Poeira, Rio de Janeiro. A peça é encenada por Bianca Comparato, Bel Garcia, Thierry Tremoux e Fabrício Belsoff. Dirigida por Lucas Marcier com consultoria de Enrique Diaz.
Os livros na peça representariam os manuscritos da obra La Hadriana de Luigi Groto, do século XVI, que segundo a lenda do mundo teatral inspiraram Shakespeare a escrever Romeu e Julieta. Antes de serem caligrafadas pelo artista plástico e calígrafo Claudio Gil as páginas receberam um tratamento de aquarela e extrato de nogueira para que parecessem manchadas e envelhecidas. O papel utilizado foi o Fabriano Murillo 190g/m2. As páginas também foram cortadas à mão, para que tivessem uma aparência bem rústica. As páginas foram costuradas diretamente no couro. Ficamos felizes com o resultado.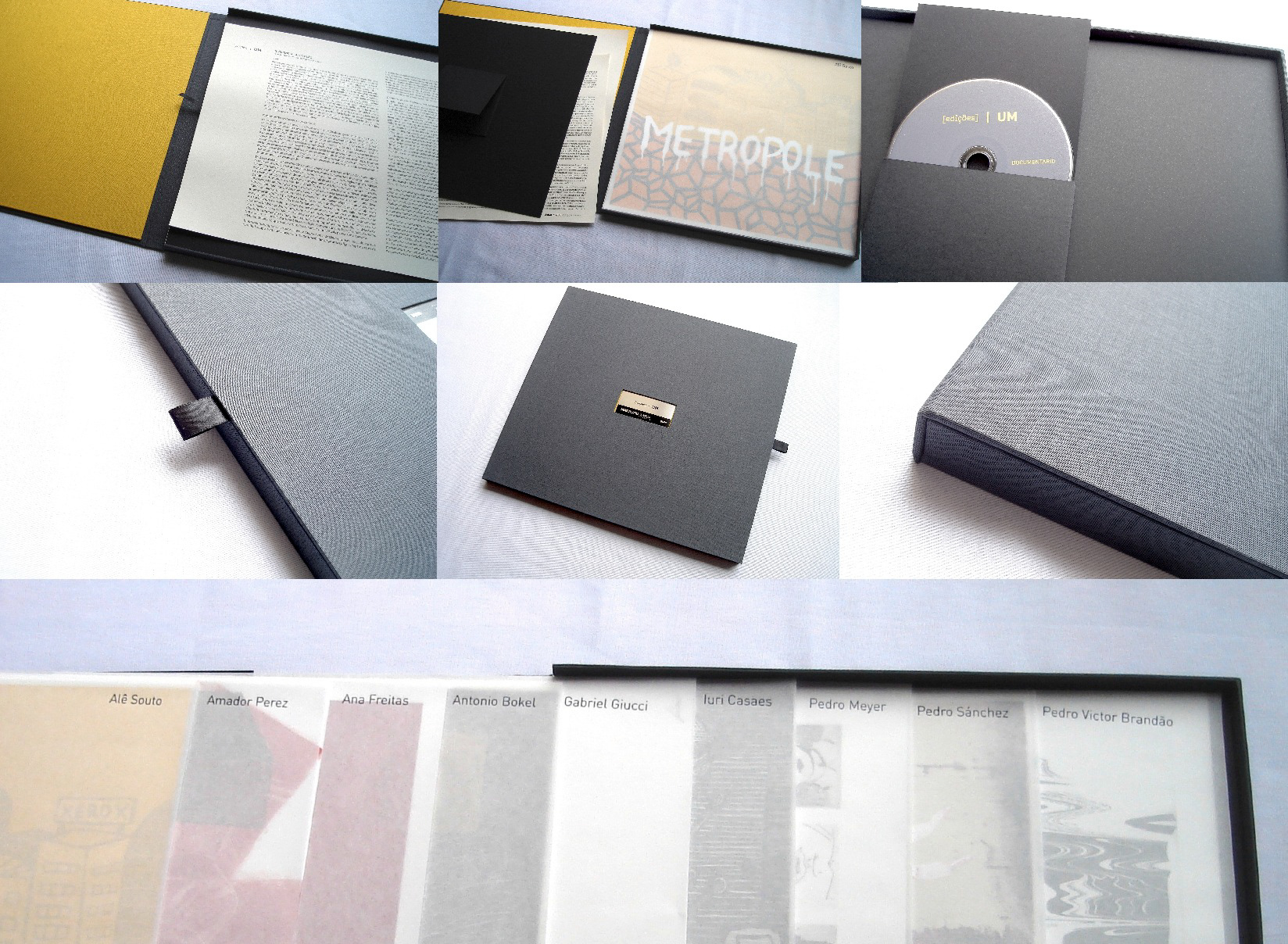 Presentation box specially developed for the art gallery Galeria Jaime Portas Vilaseca. It keeps nine enngravings with an evelope containing a CD with a documentary of the exhibiton "Edições Um", from March 22 to April 29, 2012.
Caixa Álbum desenvolvida especialmente para a Galeria Jaime Portas Vilaseca. Guarda nove gravuras com papel neutro, envelope para CD com documentário sobre a exposição "Edições- UM" que ficou em cartaz do dia 22 de março a 29 de abril de 2012.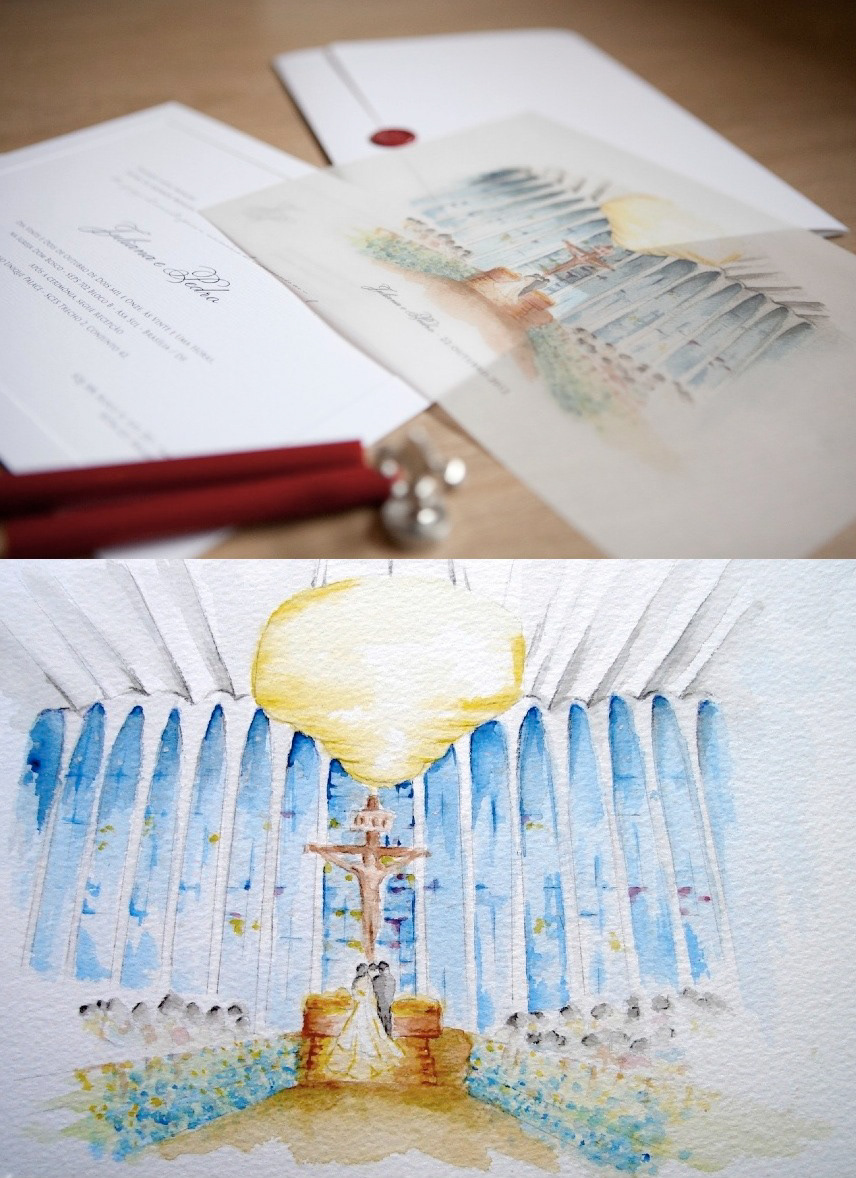 A project I loved to participate... I was invited by the Design Studio "Chá das Duas" www.chadasduas.com.br create this watercolor of the church D. Bosco in Brasilia so they could develope wedding invitations.
Um projeto que eu amei participar...Fui convidada pelo charmoso escritório especializado em fotografia e design Chá das Duas para fazer uma aquarela do Santuário D. Bosco para que pudessem desenvolver uma linha de convites de casamento. Para conhecer o trabalho
das talentosas Taina Frota e Raquel Salaro viste www.chadasduas.com.br/ Vale a visita!